Places
Top 12 Places to Visit Ahmedabad
Ahmedabad is not only the business capital of the western state of Gujarat, but also a tourist destination for many. Ahmedabad and its surrounding areas encompass a diverse and culturally rich landscape with something to offer for everyone.
It is one of the largest cities in Gujarat and is known for its link to several legends that played an important role in the history of Indian independence.
1. Sardar Vallabhbhai Patel National Memorial
This building was called the Moti Shah Mahal and has now been renamed as the Sardar Vallabhbhai Patel Museum.
The museum has artifacts belonging to Sardar Vallabhbhai Patel along with several pictures that show the various stages of his life. Two multimedia halls house the interactive exhibits which showcase various aspects of Sardar Vallabhbhai's life and work through experiential techniques. The museum dispenses information in 3 languages – Hindi, Gujarati, and English for the visitors.
If you are planning to visit Ahmedabad, November to February will be the perfect time for you as the weather in the city is ideal for sightseeing. Months from March to May are quite hot. June to October is the rainy season here and is again a good time to visit the city.
Entry Fee:

20 per person for Adults
10 per person for Children (Above 5 years of age)
30 per person for Adults (3D Show Ticket fee)
10 per person for Children (3D Show Ticket fee)

Time: 9:30 am – 5:00 pm (Monday: Closed / Holiday)
3D Show Timing: 7:00 pm To 7:45 pm | (Sat & Sun only)
2. Gandhi Ashram (Sabarmati)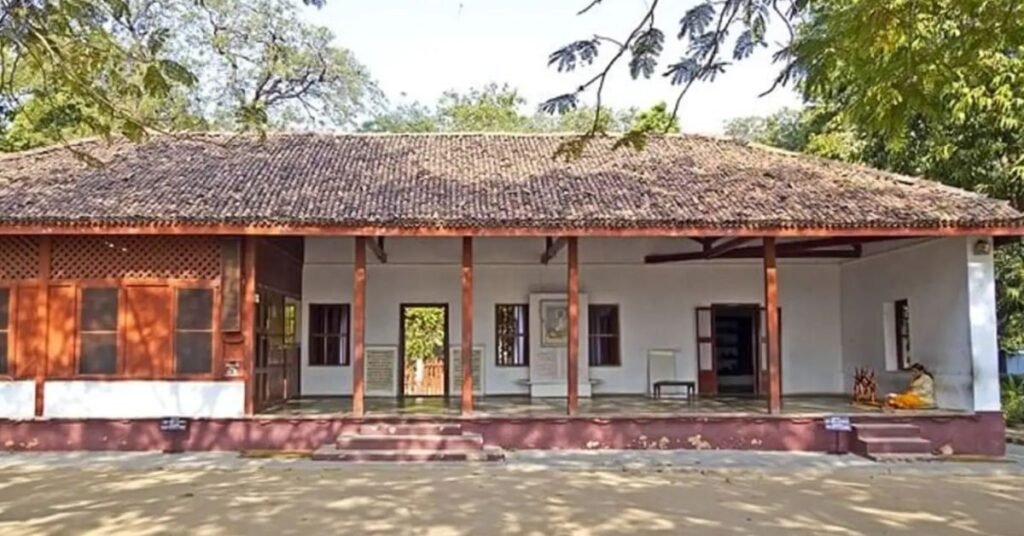 Sabarmati Ashram also known as Gandhi Ashram is located in the Sabarmati suburb of Ahmedabad, Gujarat.
The names of the buildings and sites within the ashram are:
Nandini: This is an old ashram guest house where visitors from India and abroad are accommodated. It is situated on the right hand side of Hridaya Kunj.
Vinoba Kutir: This cottage is named after Acharya Vinoba Bhave who stayed here. Today It is also known as Mira Kutir after Gandhiji's disciple Mirabehn who later lived there, following Gandhi's principles. She was the daughter of a British Rear-Admiral.
Upasana Mandir: This is an open-air prayer ground, where after Prayers Gandhiji would refer to individual's questions and as head of family would try to analyse and solve these queries. It is situated between Hridaya Kunj and Magan Nivas.
Magan Niwas: This hut used to be the home of the ashram manager, Maganlal Gandhi. Maganlal was the cousin of Gandhi who he called the soul of the ashram.
Time: 8.30 AM to 6.30 PM
Entry Fee: Free
3. Hutheesing Jain Temple
Built around 1850, by a Jain Merchant, named Hutheesing Kesarsing, this temple adds to the rich cultural heritage of Ahmedabad. Made with marble and carved with extreme finesse, this exceptional work of art pays reverence to Dharmanath, who was the fifteenth Jain Tirthankara. The temple courtyard paved with marble has 52 cubicles that are the sanctum sanctorum for the various Tirthankaras.
Time: 9 AM to 5.30 PM
Entry Fee: Free
4. Swaminarayan temple
Historical places in Ahmedabad are floored by the elegant and mesmerizing architecture of Swaminarayan Temple. The pristine white exteriors are awe-inspiring and you cannot help but admire its fine craftsmanship. There are nine tombs here that are called 'Nau Gaz Pir' or the 'Nine Yard Saints'. The temple is dedicated to Lord Narnarayan, but you will find idols of Hari Krishna Maharaj, Radhakrishna, and Dharmadev-Bhakti Mata as well in the premises. Food at the temple is cooked in satvik style and served hygienically.
Time: 6 AM to 7 PM
Entry Fee: Free
5. Sidi Saiyyed Mosque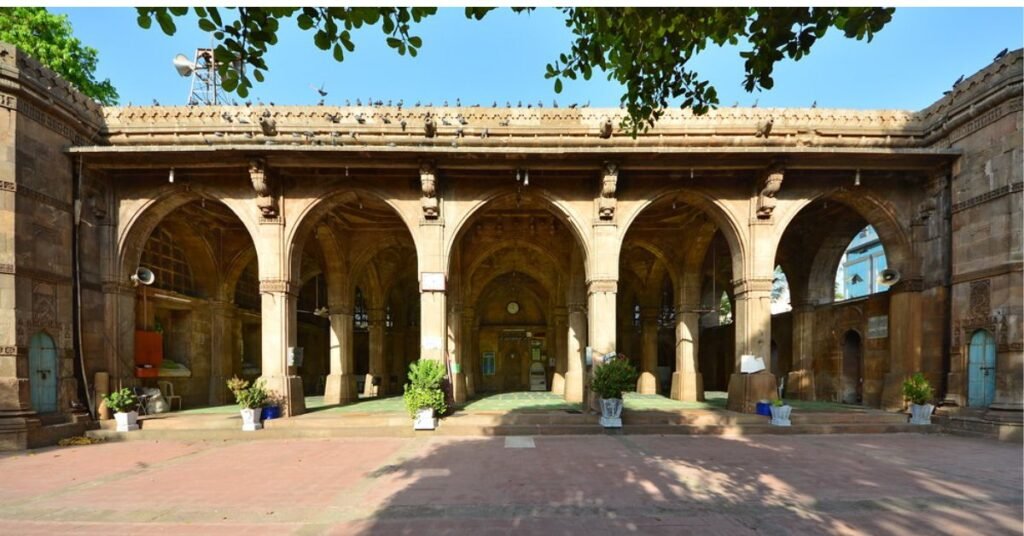 Standing right in the centre of the city, Sidi Saiyyed Mosque has an ethereal beauty that knows no bounds. The latticework on yellow sandstone is the favourite of tourists and also among the most photographed monuments in all of Ahmedabad. Its craftsmanship will hold you spellbound when you see that every carving on it is flawless. These iconic jaalis have also been used in the logo of the Indian Institute of Management, Ahmedabad; such is their connection to the city.
Time: 7 AM to 6 PM
Entry Fee: Free
6. Jama Masjid
Another architectural wonder created by Sultan Ahmed Shah, Jama Masjid is a top tourist place in Ahmedabad. The fort was built in the year 1423 by the Sultan, who wanted the Muslims of Ahmedabad to have a place where they could gather for their Friday prayers. Located right next to Bhadra Fort, it matches its grandeur with its yellow sandstone and two hundred and sixty pillars with fine carvings. The architecture of the mosque presents an amalgamation of Hindu and Islamic architectural styles, and it is said that the yellow sandstone used in the mosque was once part of some Hindu and Jain temples.
Time: 6 AM to 8 PM. (closed during Namaz)
Entry Fee: Free
7. Bhadra Fort
It was in 1411 that the founder of the city of Ahmedabad, Sultan Ahmad Shah built Bhadra Fort. A popular tourist attraction now, the forts holds many stories within its walls. It houses a temple called, Bhadra Kali Temple, which gave the fort its name. Legends tell the story of Goddess Lakshmi once entering this fort to shower her blessing on the Muslim Sultan that the city will always be blessed with wealth. The majestic fort has a grand courtyard with lush green lawns and several palaces.
Time: 9 AM to 5 PM
Entry Fee: Free
8. Jhulta Minar
Jhulta Minar, often called the Shaking Minarets, will tickle your scientific minds as even the gentlest shaking of one makes the other vibrate too within seconds. Once a part of Sidi Bashir Mosque, these wondrous minarets are now located north of Ahmedabad Junction. The architecture of these three-storied tall minarets with carved balconies is definitely worth admiring for history enthusiasts.
Time: 5.30 AM to 9 PM
Entry Fee: Free
9. Balasinor
A visit to the fossil park will surely make you dig deep into the history of dinosaurs in Gujarat. The museum is spread in an area of over 25,000 sq. feet with 10 galleries spread in the basement and the ground floor depicting various forms of displays (films and exhibitions). An exclusive 3-D film is prepared on Rajasaurus Narmadensis. Other galleries display details on Dinosaurs of India and Gujarat, Fossil Exhibits and many other features that will bring out the child in you. One can relish this museum through digital, print and static form. You can also enjoy time Machine, 3-D film, an Interactive and amusing Dino fun for kids area, a vivid display of Mesozoic times, souvenir shop etc. The museum will depict as many as 40 sculptures that will throw on a light on their size, shape, habits and habitat. The atrium features an exact replica of the habitat of these creatures.
Time: (Closed on Monday)
Entry Fees:
Children – Rs 30
Adult – Rs 70
Foreign tourist – Rs 400
Professional camera: Rs – 700
5-D Theatre: Rs 50
VR films: Rs 50
10. Adalaj Garden/ Adalaj Stepwell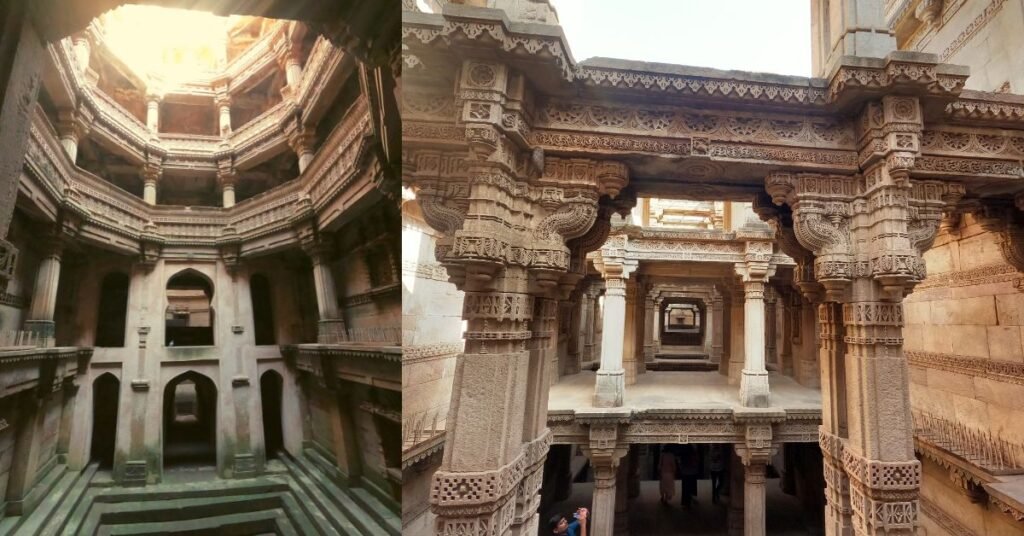 Step wells are quite a common sight in Gujarat, as they used to be the primary water source for the area before modern day plumbing rendered it out of use. Adalaj step well is the most famous of all the others in the city. It was constructed in 1499 by Rudabai, who was the wife of one of the prominent chieftains of the city. The step well speaks highly of the fine craftsmanship and the architectural brilliance employed in its designing.
Time: 5 AM to 7 PM
Entry Fee: Free
11. Science city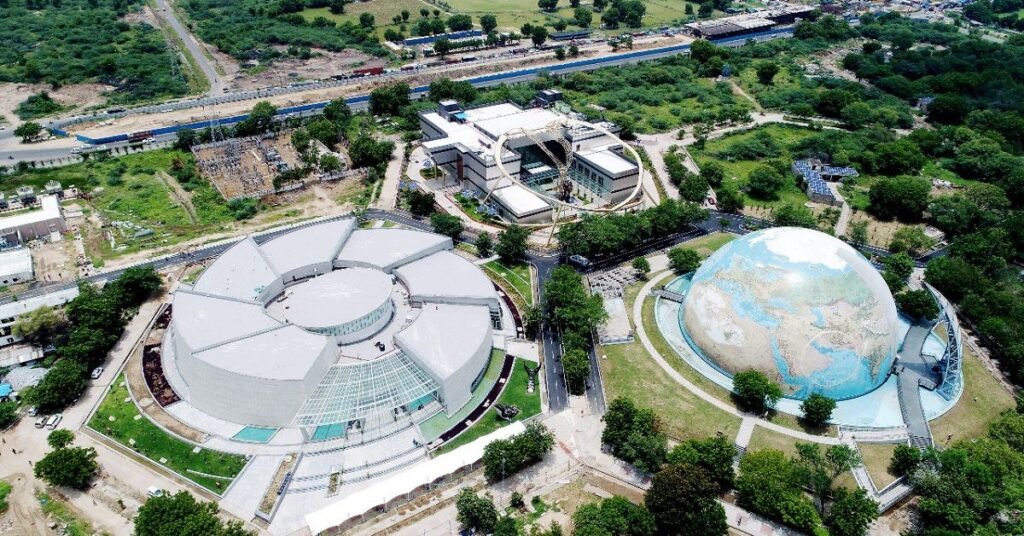 This science city presents scientific information to you in an interesting and entertaining manner.
Attractions: Robotics Gallery, Aquatic Gallery, Nature Park, Amphitheatre, Energy Park, Hall Of Science, Hall Of Space, LED Screen, Life Science, Planet Earth, IMAX 3D, Science Programs.
Time: 10.30 AM to 7.30 PM (Closed on Mondays)
Entry Fee: https://sciencecity.gujarat.gov.in/fees-timing
12. Kankaria Lake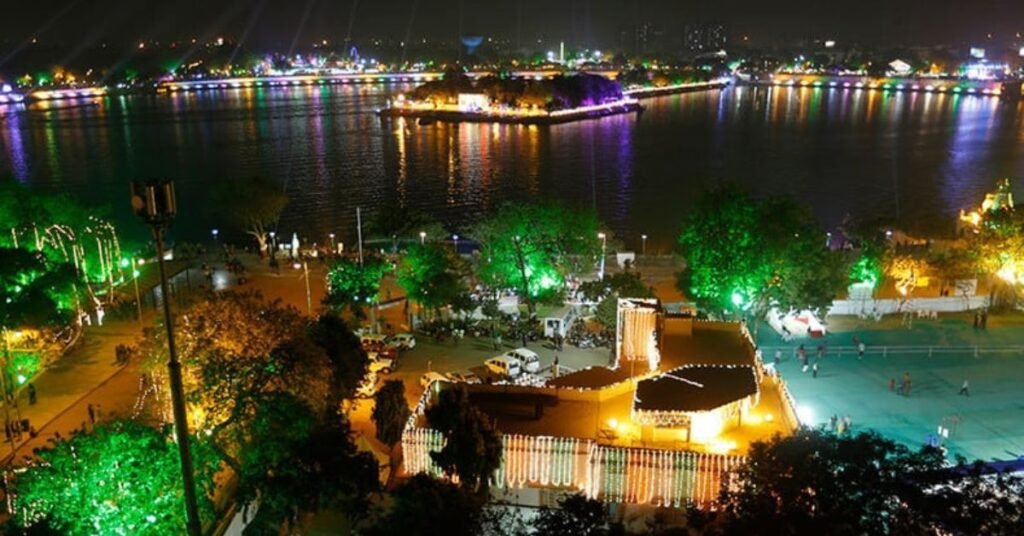 Kankaria Lake is the second largest lake in Ahmedabad. Built in the fifteenth century by Sultans Muhammad Shah and Ahmed Shah II, it even had an in-built water purification system since it was the bathing place of most rulers of that era. A lakefront is developed around it, which offers many public attractions such as toy train, kids city, tethered balloon ride, zoo, water rides, water park, food stalls, and entertainment facilities.
Time: 9 AM to 10 (visitors); 4 AM to 8 AM (visitors/Joggers)
Entry Fee: ₹ 25 for Adults, ₹ 10 for children and free entry for joggers