Places
Explore City of Dreams "Mumbai"
Top 11 Places to visit Mumbai
Mumbai is city of dreams, offers a unique and vibrant travel experience. If you are new to Mumbai & wanted to explore then go with the flow of this blog. To explore Mumbai, you have to plan your trip location wise. Definitely this will not be one day trip, with proper planning and an open mind, Mumbai can offer a truly unforgettable travel experience.
1.Chhatrapati Shivaji Terminus
Chatrapati Shivaji Maharaj Terminus (CSMT), formerly known as Victoria Terminus, is a historic railway station. CSMT is the India's most beautiful railway station.
CST was designed by British architect Frederick William Stevens in the late 19th century and was completed in 1887. It serves as the headquarters of the Central Railway in Mumbai and is one of the busiest railway stations in India. The station is named after the Maratha warrior king, Chhatrapati Shivaji Maharaj.
The architecture of CSMT is a blend of Victorian Gothic and Indian traditional styles. It features a magnificent stone dome, pointed arches, turrets, and intricate carvings. The station building is adorned with statues, ornamental ironwork, and stained-glass windows, reflecting the grandeur of the colonial era. While you are here, don't forget to take a photograph with your friends & family
2.Gateway of India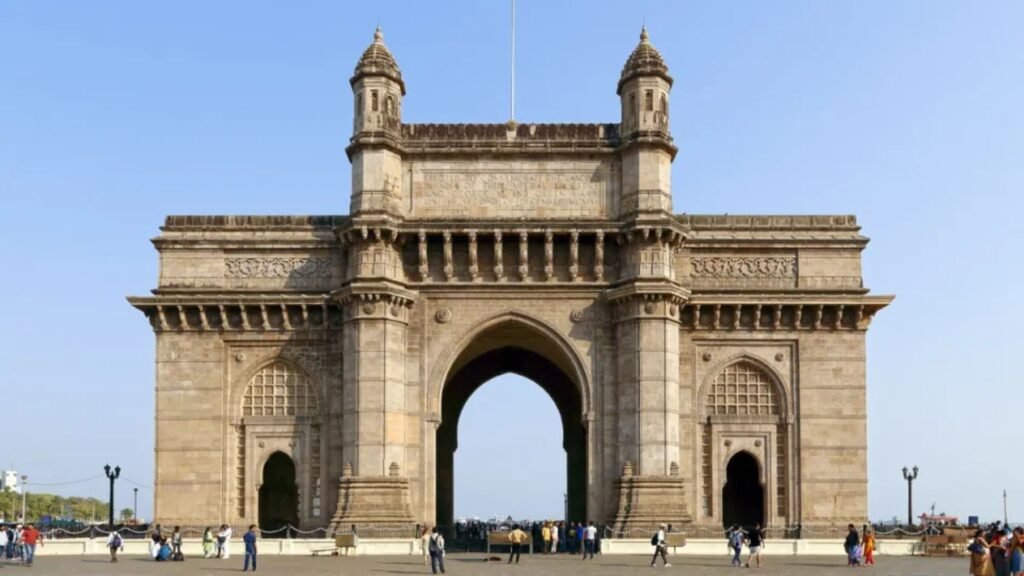 It is situated on the seafront in the Colaba, overlooking the Arabian Sea. The monument holds historical and architectural significance and is a popular tourist attraction.
The Gateway of India was built to commemorate the visit of King George V and Queen Mary to Mumbai in 1911. The foundation stone was laid in 1911, and the structure was completed in 1924.
Visit this place in the early morning or late evening hours to enjoy the cool breeze of the sea. Gateway of India is located quite close to Taj Mahal Palace Hotel & Elephanta caves and, which are two other prominent tourist attractions of Mumbai.
Distance from CSMT: 2.5 Km from CSMT
Location: Apollo Bandar, Colaba
Timings: 24×7; every day
Entry Fee: Free entry
Ferry rides are chargeable
3.Elephanta Caves
The Elephanta Caves is a UNESCO World Heritage Site located on Elephanta Island, also known as Gharapuri Island, in Mumbai Harbor. The caves are renowned for their ancient rock-cut sculptures and temples, primarily dedicated to Lord Shiva.
To reach the Elephanta Caves, visitors need to take a ferry from Mumbai's Gateway of India. The journey takes around one hour, and once on the island, visitors can explore the cave complex by foot.
Distance from CSMT: 2.5 Km to reach Ajanta Catamarans Ticket office from CSMS
Location: Gharapuri
Timings: 9:00 am to 5:30 pm; closed on Mondays
Entry Fee:
Citizens of India, Afghanistan, Bangladesh, Bhutan, Maldives, Myanmar, Nepal, Pakistan, Sri Lanka, & Thailand – ₹40 per person
Other foreign citizens – ₹250 per person.
4.Marine Drive
One of the best places for a walk, Marine Drive is visited by hordes of tourists as well as residents in evenings and mornings. Marine Drive is a prominent coastal road and a popular landmark in Mumbai. It is a 3.6-kilometer-long boulevard that curves along the Arabian Sea coastline in the southern part of the city.
It is an ideal place to relax and spend some romantic moments on a beautiful evening.
Distance from CSMT: 2.5 Km from CSMT
Location: Netaji Subhash Chandra Bose Road, Chowpatty
Timings: 24 x 7; every day
Entry Fee: NA
5.Haji Ali Dargah
It is situated on an islet off the coast of Worli, and the dargah (tomb) is dedicated to the memory of the Muslim saint Pir Haji Ali Shah Bukhari. The dargah is open to visitors of all backgrounds and faiths, promoting a sense of unity and inclusiveness.
Haji Ali Dargah is not only a place of religious significance but also an architectural marvel and a popular tourist attraction in Mumbai
Distance from CSMT: 7.3 Km from CSMS
Location: Dargah Road
Timings: 05:30 am to 10:00 pm; every day
Entry Fee: Free
6.Shree Siddhivinayak Mandir
The temple is one of the most popular and revered places of worship in Mumbai. It attracts a large number of devotees and visitors throughout the year, especially on Tuesdays, which is considered an auspicious day for Lord Ganesha.
The construction of the Siddhivinayak Temple began in 1801 by a rich Agri family, Deubai Patil and Laxman Vithu, with a small shrine dedicated to Lord Ganesha. Over the years, the temple gained popularity, and its infrastructure was gradually expanded and improved. The current temple structure was built in 1993.
Distance from CSMT: 12.4 Km from CSMT
Location: Khed Galli, Prabhadevi
Timings: 05:30 am to 10:00 pm; every day
Entry Fee: NA
7.Bandra Worli Sea Link View
The Bandra-Worli Sea Link, officially known as the Rajiv Gandhi Sea Link, it is one of the most significant infrastructure projects in Mumbai and has become an iconic symbol of the city's modernity. the sea link offers stunning panoramic views of the Arabian Sea and the Mumbai skyline.
It's important to note that the Bandra-Worli Sea Link is a tolled road, and vehicles are required to pay a toll fee to use it. Pedestrians are not permitted on the bridge, but there are designated viewpoints where people can admire its architecture and enjoy the surrounding views.
Distance from CSMT: 12.6 Km from CSMT
Location: Kesarinath Buva Bhaye Marg, Koliwada, Worli
Timings: 24×7
Entry Fee: Toll for Car – INR 70, Light Commercial Vehicle – INR 110, Heavy Vehicle – INR 145
8.Juhu Beach
Juhu Beach is a popular and bustling beach located in the western suburbs of Mumbai. In addition to strolling and enjoying the food, visitors can engage in various recreational activities. Horseback and camel rides are available for those seeking a fun experience along the beach.
Juhu Beach is also famous for being the residence of many Bollywood celebrities, and it is not uncommon to spot them during your visit.
Distance from CSMT: 21 Km from CSMS
Location: Juhu Tara Road
Timings: 24 x 7; every day
Entry Fee: NA
9.ISKCON Temple
It is a prominent spiritual and cultural landmark associated with the International Society for Krishna Consciousness (ISKCON). The ISKCON Temple in Mumbai attracts devotees, tourists, and spiritual seekers from around the world who come to experience the spiritual aura, participate in the temple activities, and seek solace in devotion and prayer.
The ISKCON Temple is also an educational hub and its library houses an impressive collection of spiritual books.
Distance from CSMT: 21 Km from CSMS
Location: Hare Krishna Land, Juhu
Timings: 08:00 am to 01:00 pm and 04:15 pm to 09:00 pm, Monday to Sunday
Entry Fee: Free
10.Sanjay Gandhi National Park
Sanjay Gandhi National Park, previously known as Borivali National Park, is a protected area located in the northern part of Mumbai. It is spread across an area of approximately 104 square kilometres (40 square miles) and is one of the largest national parks within a metropolitan city worldwide.
One of the key attractions within the park is the Kanheri Caves, a group of ancient Buddhist rock-cut caves dating back to the 1st century BCE to the 10th century CE. These caves served as monastic retreats and contain intricately carved sculptures, inscriptions, and meditation chambers.
Distance from CSMT: 37 Km from CSMT
Location: Borivali East
Timings: 07:30 am to 06:30 pm; closed on Mondays
Entry Fee:
Adults – ₹53 per person
Children (Between 5 to 12 years of age) – ₹28 per person
Children (Below 5 years) – free
Additional charges for Kanheri Cave visit, safari, boat ride, and toy train ride.
11.Global Vipassana Pagoda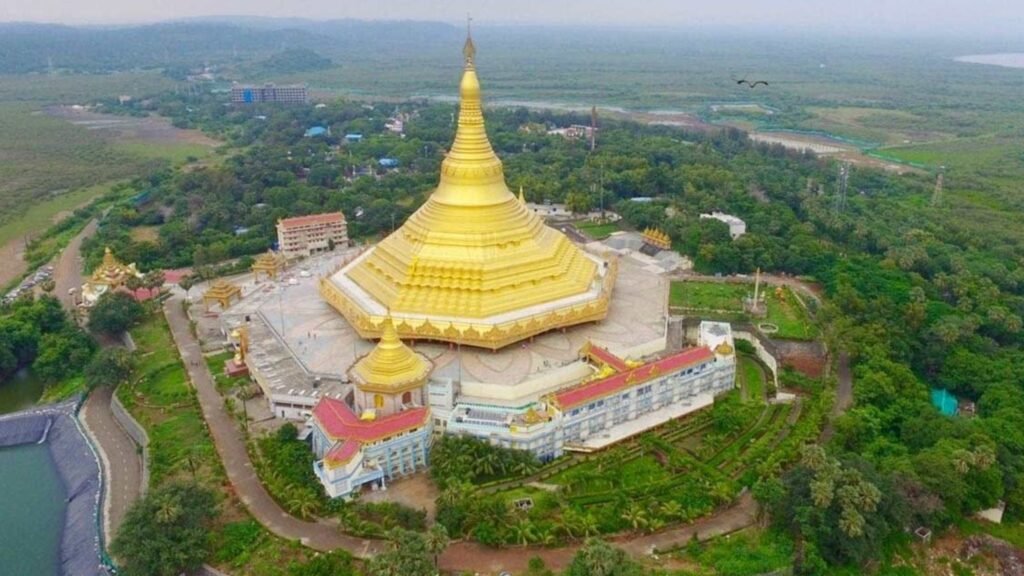 Global Vipassana Pagoda is a prominent Buddhist monument and meditation center located in Gorai. The pagoda stands as a symbol of harmony, peace, and the pursuit of inner awakening. It attracts both spiritual seekers and tourists who are interested in exploring the rich cultural and spiritual heritage of India.
It offers an opportunity to experience the peacefulness and spiritual essence of Buddhism in the midst of a bustling city
Distance from CSMT: 62.3 Km from CSMS
Location: Global Pagoda Road near Essel World Gorai, Borivali West
Timings: 09:00 am to 07:00 pm (entry allowed till 06:30 pm), Monday to Sunday (ID proof required)
Entry Fee: Free
There are many more options out there to explore Mumbai:
Veermata Jijabai Bhosale Udyan and Zoo (South Mumbai)
Girgaum Chowpatty (South Mumbai)
Mahalaxmi temple (South Mumbai)
Kamla Nehru Park (South Mumbai)
Hanging Garden (South Mumbai)
Chhatrapati Shivaji Maharaj Vastu Sangrahalaya
Mumbai Film City (Western suburbs)
Fashion Street (Fort Mumbai)
Mahakali caves (Andheri)
Hill Road and Linking Road (Bandra)
Gorai Beach (Western suburbs)